Welcome to the Tenvoorde Ford library of vehicle comparisons! Our team compiled this collection specifically for drivers in St. Cloud, Monticello, and Sartell.
We hope you take a moment to explore the articles on this page. Our Ford vehicle comparisons will jumpstart your automotive research process and set you on the path to finding your next dream car. 
The Importance of Ford Vehicle Comparisons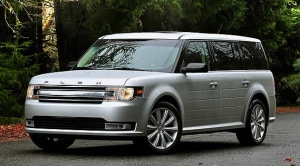 Reading high-quality comparisons is an integral part of conducting thorough and effective vehicle research. In fact, it's imperative, due to the state of the market today.
There are so many makes and models available that finding the car you want can seem daunting, if not overwhelming. On the surface, many vehicles seem to offer the same features and specifications.
Our Ford vehicle comparisons dig below the surface to discover which cars truly have what you want. This will narrow your focus down to only the most relevant models and features, which will be especially helpful on the day of the test drive. 
Tenvoorde Ford Vehicle Comparisons
Our team at Tenvoorde Ford wrote these vehicle comparisons so they're easy to read and only contain the most pertinent information. What will you find when you click on one of the links?
Each article will focus on a specific Ford and how it measures up against a competitor's model. It'll offer a side-by-side analysis of how the two cars compare in various categories, such as interior and exterior design, performance, safety, entertainment, etc. It'll conclude with some thoughts about which one is the better vehicle for you.
Whether you're interested in the Ford F-150 light-duty pickup truck, the Ford Fusion sedan, the Ford Explorer SUV, or anything else in our inventory, our vehicle comparisons can help you learn more and feel confident in your decision. 
If you live in St. Cloud, Monticello, or Sartell, we encourage you to consider some of the articles on this page. If you have a question about any of the vehicle comparisons in our library, contact us at Tenvoorde Ford.
Don't forget to browse our index of Ford vehicle comparisons today.
2017 Ford Fusion vs. Toyota Camry
2017 Ford F-150 vs. Chevy Silverado
2017 Ford Escape vs. Honda CR-V
2017 Ford F-150 vs. Toyota Tundra