Finding the right car can be complicated, and it definitely requires a lot of research. At Tenvoorde Ford, we strive to make every step of the car buying process as simple as possible. That's why we created these vehicle reviews to make it easier for drivers in St. Cloud, Monticello, and Sartell to research and compare different Ford models.
Just click on one of the review articles below to start familiarizing yourself with the differences between the models and what each vehicle has to offer you.
What are Vehicle Reviews?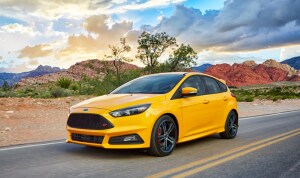 These reviews outline the details of various Ford cars, trucks, and SUVs, like the Ford Fusion, the Ford F-150, and the Ford Edge.
These reviews simplify the affair of researching your next Ford by providing all of the information you need in one convenient location. Each review will explain the key specifications and new features of a certain vehicle, such as:      
Safety systems or safety ratings and awards
          
Engine options, power, and towing capabilities
          
Smart technology, including music and navigation applications
          
Interior and exterior design highlights
Why are Vehicle Reviews Important?
Undertaking vehicle research will benefit you in several ways:      
You'll learn about models that you hadn't been exposed to before. Without conducting thorough research, perhaps you would never discover the best car for you!
          
You'll learn about new features that you hadn't even considered. How could you know that you want a car with a rotary gear shift dial or a 2.7L EcoBoost® engine if you didn't know about these options or how they could benefit you?
          
You can narrow your focus down to a few Ford models, so when it's time for a test drive, you know which specific vehicles that you're interested in.
Contact Tenvoorde Ford to Learn More
Start your research today. Browse the articles on this page and consider what you're looking for in a Ford vehicle. If you have any questions that aren't answered in the reviews, call us at Tenvoorde Ford or stop by our showroom. We're proud to serve the communities of St. Cloud, Monticello, and Sartell, MN.